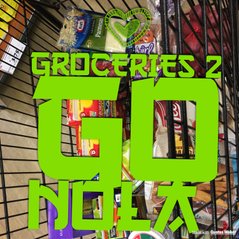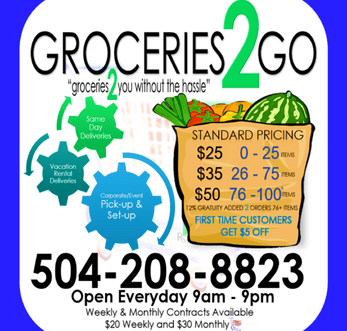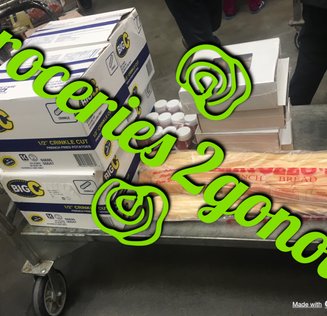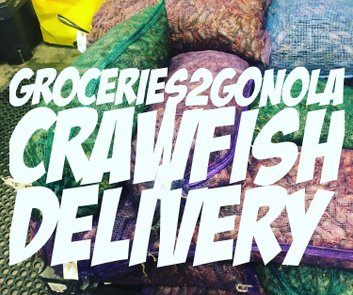 Senior Citizens discount is 10% off delivery fee
The client will recieve a invoice from Groceries 2 Geaux Nola, after the shop is over and shopper is in route. Invoice must be paid before personal shopper leaves.
TEL: 504-208-8823
EMAIL: G2GNOLA@GMAIL.COM
.
Basic Cleaning 1 1/2 hours $85
Deep Cleaning 3 hours $175
Home & Vacation Rental Cleanings (GeauxNolaMaids)
Hassle-Free Shopping Is Just a Click Away
Groceries 2 Geaux Nola is your #1 local grocery delivery service that will make sure you recieve your items to your door step or office when you've requested. On the day of delivery you can contact us to add or change things on the order. Also the shopper will contact you incase of substitutions.
Groceries 2 Geaux Nola shops all of the local stores and Membership stores (no membership required).
Sams ,Costco, Walmart, Rouses, Roberts, Whole Foods, Trader Joe's..... etc....
Same day orders require 2 HOURS NOTICE
All orders over 76+ items /$300 have a mandatory 12% gratuity
STORE PICKUP ORDERS (PREPAID)

$15
Resturant ToGo orders

$15
Grocery put away service

$10
Additional store $5
SAME DAY SERVICE $10
*Weekly Contracts are $20
*Monthly Contracts are $30
*MUST BE PAID A MONTH INADVANCE FOR DISCOUNT.
GROCERIES 2 GEAUX is open Monday-Sunday 9am- 6pm, so feel free to call us 504-208-8823, during business hours or Email us G2GNOLA@GMAIL.COM, after hours with any questions and concerns.
0-25 ITEMS

$25
26-75 ITEMS

$35
76+ ITEMS $50 +12% Gratuity
Fresh Grocery Delivery NOLA
Courier Services
2 hrs. $5
45 min. $10
30 min. $15
Post Office Runs
Regular mail $5
Boxed mail $10
Bulk mail $15
Vet/Groomer Drop/pick up
cats & small dogs $25
(in kennal)
Big Dogs $35
Doctor Visit Drop/pick up
$10 a hour
Grocery store companion service
flat fee of $30
includes ride to store, help while shopping, groceries loaded and unloaded
Dry cleaner Drop/pick up
Pick up $10
Drop off $10
Drop off and pick up $15
GEAUX NOLA RIDEZ
AIRPORT/CRUISE DROP OFF $25pp
DROP OFF AND PICK UP $45pp
SWAMP TOURS $20
Call for group pricing